New Funding Mechanism Created for Long Island's First Convention Center
LONG ISLAND, NY – June 9, 2023 – Discover Long Island, the region's official DMO, has announced that legislation was signed into law that increases the hotel/motel tax rate in Suffolk County from 3 percent to 5.5 percent, benefiting local cultural institutions, increasing the budget for tourism promotion and supporting infrastructure to build the region's first-ever convention center.
The legislation, signed by New York State Governor Kathy Hochul in late 2022 and overwhelmingly approved on the local level in April, officially went into effect on June 1, 2023; it is expected to nearly double the local hotel/motel tax collections paid by visitors to Long Island, who spend $6.3 billion annually to experience the region's iconic attractions, including The Hamptons, Wine Country and its beaches. This is the first increase of Suffolk County's hotel/motel tax in nearly 15 years, which prior to the increase was one of the lowest in the nation. Benefits of the additional revenues include:
Formation of funding mechanism for building Long Island's first convention center as part of the proposed Midway Crossing development near Long Island MacArthur Airport in Ronkonkoma
Increased funding for Discover Long Island from $2 million to $6 million annually for tourism promotion
Support for museums, historical societies, parks and cultural attractions in Suffolk County
Tourism promotion funding for Long Island's "East End" communities
Dedicated marketing to promote Long Island MacArthur Airport
Increased funding for film promotion
The increased investment for tourism promotion through Discover Long Island, led by president and CEO Kristen Reynolds, CDME since 2015, aims to enhance its ability to remain competitive and grow strategically as a destination for leisure travelers, who generate $760 million in annual state and local tax revenue, while working to develop necessary assets to market Long Island as an ideal destination for business travelers for the first time.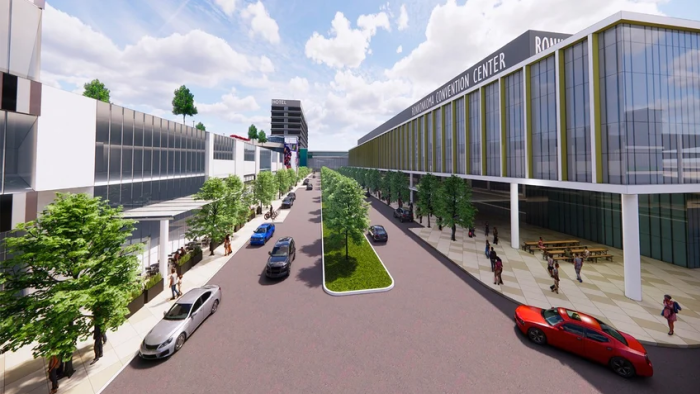 Rendering: JLL/Crawford Architects
"This historic achievement underscores the power and importance of Long Island tourism for the growth and sustainability of our entire economy and Long Island's future. A convention center at the heart of our world-class destination is key to unlocking Long Island's access to the multi-billion-dollar meetings industry," said Reynolds.
In addition to the 100,000-square-foot convention center, the Midway Crossing development will also include a 300-room connecting hotel and commercial space, which Suffolk County Executive Steve Bellone says will target life sciences companies to "further solidify Long Island as a leader in health, science and innovation." He added: "A convention center would not only pump more than $4 billion into our local economy annually but it will inspire future generations to stay and work on Long Island by sustaining thousands of high-paying jobs."
The proposed Midway Crossing development is set on 179 acres of public land near the center of Long Island and with ideal proximity to Long Island MacArthur Airport and the Long Island Railroad (LIRR), with direct connection to Penn Station and Grand Central Station in New York City.
For more information, visit www.discoverlongisland.com.
###
Discover Long Island is the region's official destination marketing and leadership organization charged with furthering the destination's thriving visitor economy, which saw record-breaking highs in 2019 generating $6.3 billion in visitor spending. The organization ensures Long Island's coveted quality of life, thriving industries, and dynamic destination offerings are promoted on a global level, furthering economic development, and benefiting residents and businesses throughout the region. Awarded "Best Social Media" in the nation by the US Travel Association, the organization produces engaging content featuring local businesses and attractions for their 10 social media channels which garner upwards of 10 million views. Additionally, the organization hosts a popular YouTube series, Long Island TV, as well as the Long Island Tea podcast. To learn more, please call 631-951-3900 or visit www.DiscoverLongIsland.com.
Media Contact:
Justine DiGiglio, V.P. of Communications
jdigiglio@discoverlongisland.com
631-807-1088