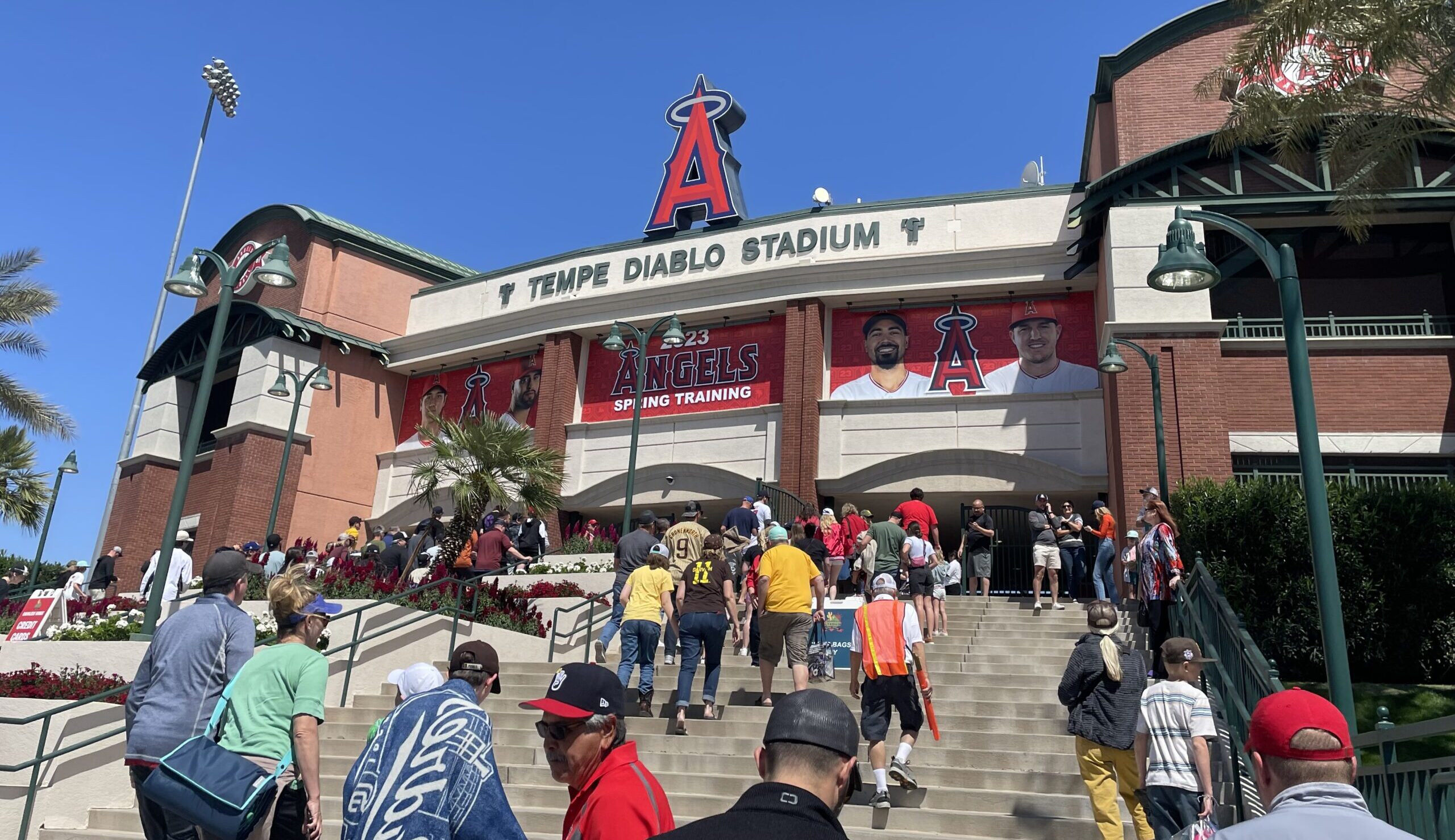 Head out to Tempe, Arizona, and walk up the steps to the gates at Tempe Diablo Stadium to see the Los Angeles Angels, a compact stadium packed to the brim not just in the stands but in the outfield grass and concourses on this Friday afternoon with fans both in Angels red and San Diego Padres brown, not a cloud in the sky and every crack of the bat clear and sharp.
Then you travel to Mesa and Hohokam Stadium to check out the Oakland Athletics. Nestled into a neighborhood with a grassy space for parking, there are residents who could roll out of bed, walk out the door and be in a seat within minutes … if you don't stop by the food trucks alongside the third-base concourse first.
Both stadiums give fans a chance to watch baseball closer than perhaps they ever will in person. With everything from tickets to parking to concessions at a lower price point than one will expect at MLB regular season stadiums, spring training baseball is perhaps one of the best values that a sports tourist can have.
"In this post-Covid world, having a full spring training was the most welcoming environment," said Lance Fite, director of sports sales for Visit Mesa. "Our hotels needed it; our restaurants needed it. It really gives our city a buzz."
This spring in Arizona is one of renewal for the Cactus League — renewal of postseason hopes for most, but not all, of the 15 teams that call the region home in February and March, and renewal for the cities that host teams and out-of-town visitors. A report conducted by Arizona State University's W.P. Carey School of Business estimated $644.2 million in economic impact for the region in 2018, with 60% of the fans that spring coming from out of state. But half of those gains were lost between 2020, when the pandemic shortened spring training significantly and in 2021, with attendance limited to 25% capacity.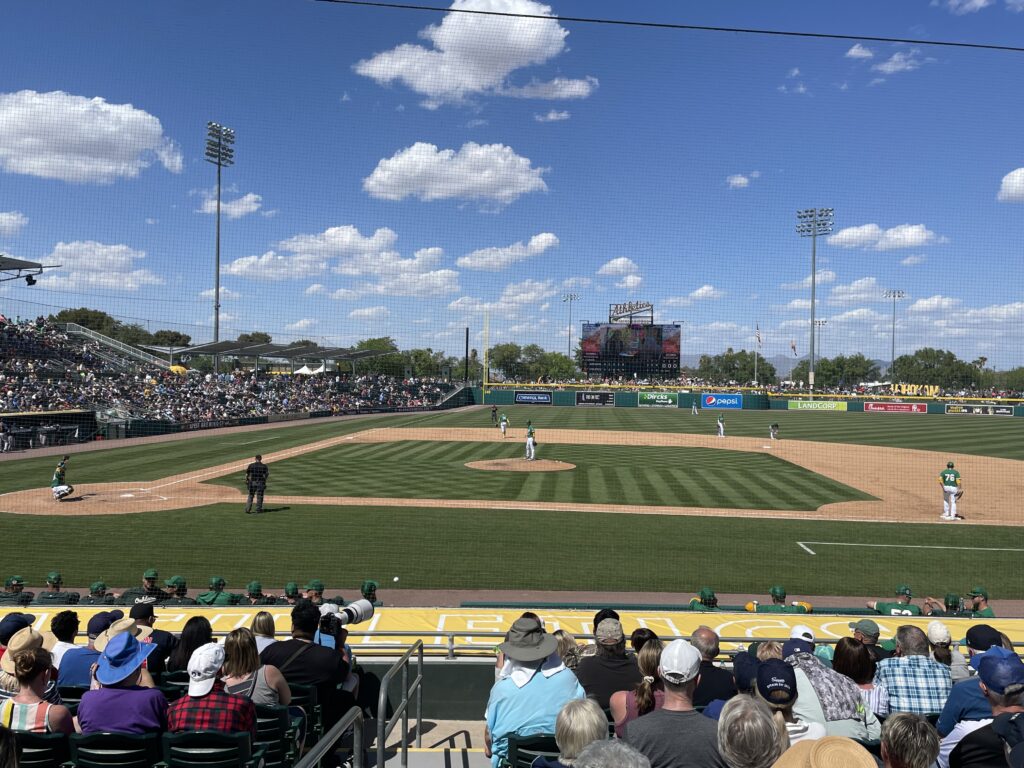 The story this year was one of growth: Overall Cactus League attendance this year was a little over 1.6 million, more than double last year and within touching distance of the 1.7 million in 2019. The Chicago Cubs drew the most fans this spring with 247,863 in 18 games; the Angels drew 109,385 this year in Tempe over 15 games, while the A's, in 14 games, drew 74,642.
"People are supporting our local businesses, Mill Avenue is super busy again," said Luchie Javelosa, senior sports sales manager at Tempe Tourism, which along with Visit Mesa, Richmond Region Tourism and Experience Columbia (S.C.) organized a recent trip. "You can really see the big difference with all the visitors coming in. We've had a lot of people stop by our office and visitors center from Australia, lots from Canada. The uptick in visitors is back, I think it's stronger than the pre-pandemic levels even. We're just happy to have everybody back and spending money and enjoying the sunny weather and having a good time."
The story in Arizona's Cactus League exists in Florida's Grapefruit League as well. Palm Beach County, which hosts four teams at two venues — Houston and Washington at the Ballpark of the Palm Beaches plus Miami and St. Louis at Roger Dean Chevrolet Stadium — saw $33 million in estimated economic impact in 2022, but the Palm Beach County Sports Commission projects this year's impact will mirror that of 2019 which surpassed $70 million.
A pitch clock, but not on your spring training experience
Spring training was also the first chance for fans to experience the new rules that Major League Baseball is using to speed up the game, most notably a pitch clock. MLB said spring training games were 26 minutes shorter than a regular season game in 2021; two games last weekend during a first-hand observation of the new rules came in at 2:14 for a Padres' 3-0 win over the Angels and 2:41 for the Brewers' 6-5 win over the Athletics.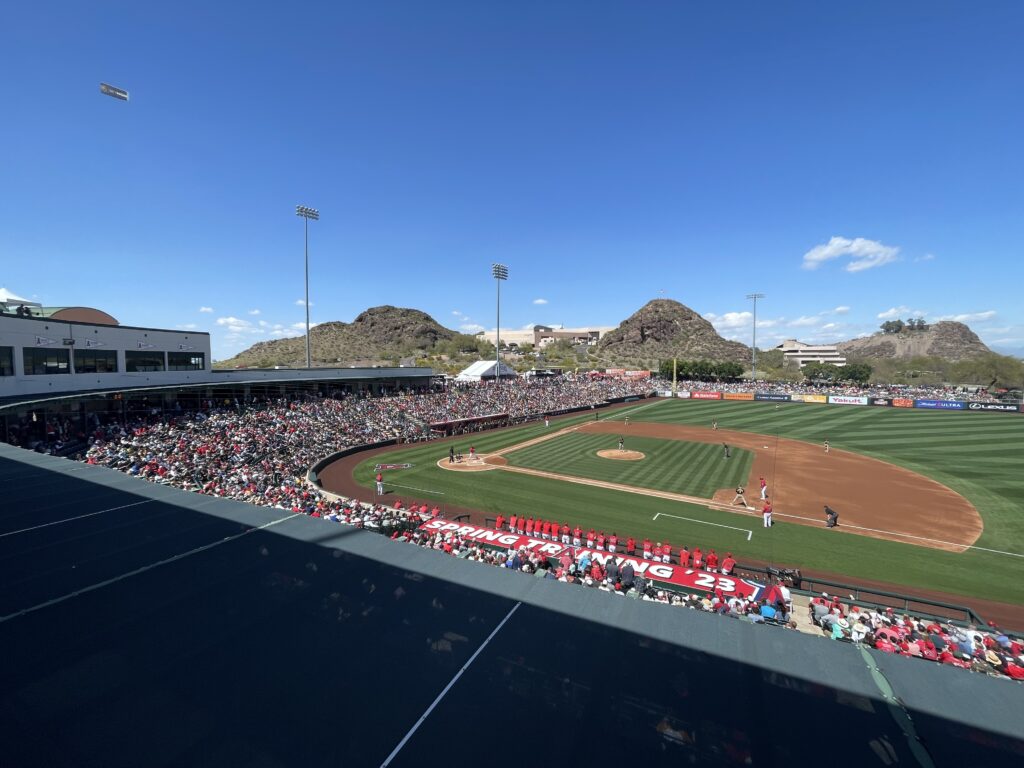 As for the rules changing the fan experience — while in the back of mind a fan could feel the game being a bit quicker, it still remains baseball. There are going to be pitches taken, foul balls that require a ball boy to run out to replace a lost ball with a group of new ones and there's still time to chat away on the concourse, in the seats or anywhere you watch a game. Only midway through the Padres-Angels game did you look at the scoreboard and realize, 'Wow, this game is going by fast.'
But for spring training fans, that's not a bad thing because that means there's more free time to explore a city to eat, drink and relax. Brewers and Cubs fans seemed most prominent around both Tempe and Mesa, but there were plenty of other teams and jerseys at the bars after a game and the restaurants open into the night.
"Every spring training we bring in our snowbirds, but we have such a strong Chicago demographic that lives in Arizona that not a lot of people know about," said Fite. "(Mesa does) a ton of marketing in the city of Chicago because we have so many Chicago residents here when the Cubs are playing."
Major sports happening around Valley of the Sun
And in the cities visited recently, baseball is not the only show in town.
Tempe is the home to Arizona State University and its high-level Pac-12 athletics as well as the Arizona Coyotes, who plan to play at ASU's Mullett Arena through at least the 2024–2025 season while searching for a new home. The PHF held its championship game at the arena on Sunday, drawing around 1,500 for a game that was announced with less than a month's worth of promotion.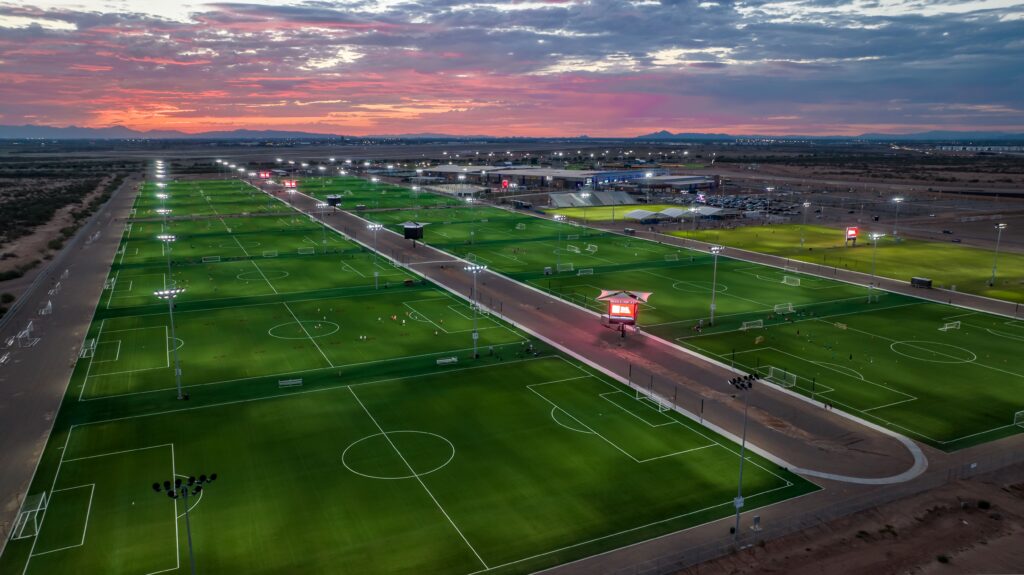 In Mesa is a youth sports haven, Bell Bank Park. The 320-acre facility, a vision brought to life by the Legacy Sports USA organization, had a soft opening in January 2022 and official grand opening a month later, hosting more than 250 sports competitions in 2022 alone with more than 4.3 million visitors.
The recent weekend in 2023 had nearly a dozen tournaments in multiple sports going on simultaneously both outside and inside. With multiple field houses and outside layouts, it's almost easier to list what sports are not possible to be played at the complex. Walking through the indoor complexes is a cacophony of various sounds and whistles; outside is the full color spectrum on display between warmup jackets, 'mom' and 'dad' shirts, uniforms and more.
If it sounds like a lot, that's what spring training is like: where you can go out to lunch, catch a game, then have dinner and drinks and maybe even make a long weekend out of it if you have kids who want to play on their own field of dreams. And that's why spring training this year was back and bigger than ever.