What are your job title and responsibilities?
Senior Sports Sales Manager – I am responsible for retaining and growing sports events and tournaments in Tempe, AZ. This includes bidding on events, partnering with our community business/stakeholders and neighboring cities in the Phoenix Valley area, attending sports industry-related events and conferences, etc.
What was your first job in the industry?
I started as the admin assistant for the sales team at Visit Tucson. I was so eager to learn that I assisted almost every department with whatever they needed help.
What aspect of your job do you like most?
My favorite part of the job is providing unforgettable experiences for our attendees, especially the youth.
What did you want to be when you grew up?
I remember distinctly when I was about 5 years old, I told everyone I wanted to be a lawyer. Maybe in the next life?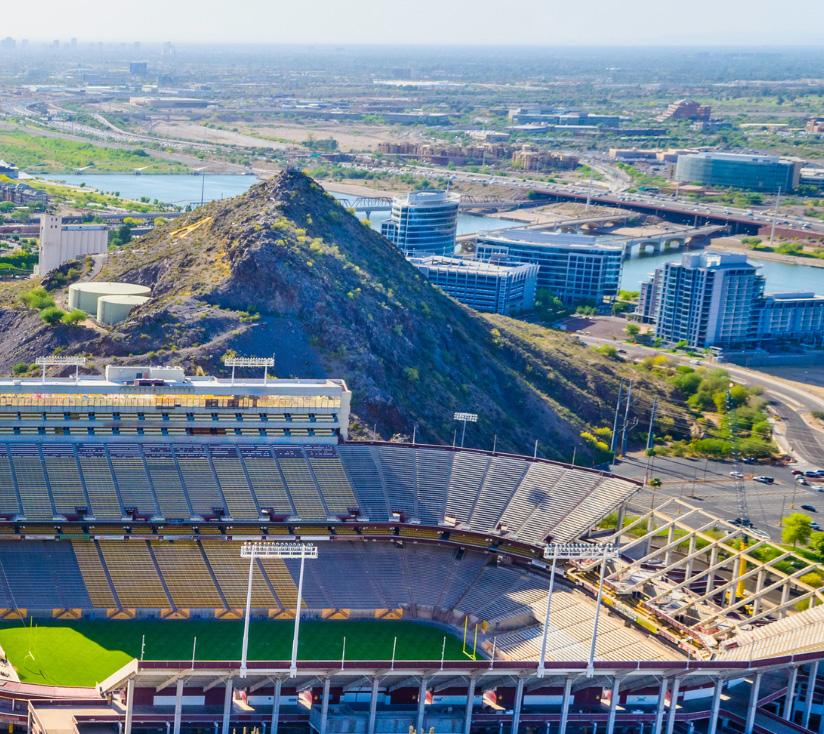 How did you get into this line of work?
Like many colleagues, I just happened to stumble upon the tourism industry. I had no idea that sports tourism existed until I started working for Visit Tucson in 2015.
Please tell us about your role as the co-lead for the Sports ETA Young Professionals Committee.
I am currently the co-lead for the Sports ETA YP Community along with Ariana Tyler from the Greater Columbus Sports Commission. The focus is to provide educational content and networking opportunities for Young Professionals in our industry. It's been amazing to see how many new young professionals have joined the industry within the past couple of years. I remember how daunting it can be to be the "newbie," so being able to provide something for our community to connect and build relationships with other YPs has been very helpful.
What has been your biggest accomplishment thus far in your career?
One of the things I'm most proud of is the partnerships I've helped create and being able to provide opportunities and access to underserved communities. For instance, when I was in Tucson, we donated baseballs that our Korean baseball teams used for spring training. We gave them to little leagues, schools, and other organizations that didn't have the budget to purchase these items. I'm working with our parks & rec and a non-profit organization in Tempe to create a partnership to collect sports gear and equipment. There are so many things we can do without reinventing the wheel!
How do you manage your daily tasks?
I scroll through my emails first thing in the morning and divide them up priority-wise. I am one of those people who can't stand seeing all those unread emails, so I keep my inbox relatively "clean." I am big on creating lists – I have a "To do list" folder in my email, a list on my phone, and a list on paper, depending on what I'm working on.
How do you stay on top of sports tourism industry trends?
I keep up to date through industry publications, LinkedIn, and my colleagues. I also stay active within Sports ETA, which helps keep me in the loop.
How are you developing key partnerships in the marketplace?
I make it a point to expand my network every chance I get. Attending industry conferences throughout the year allows me to connect with new and existing clients/colleagues. There's nothing that can replace that face-to-face interaction.
I also believe doing business is more than just transactions; that's why so many of my industry colleagues have become friends. When you show up authentically and are genuine, it's so much easier to build that relationship and trust. You never know where someone will end up; a rights holder could move to another sport, or a destination representative could become a rights holder. So check in, support them when you can, and cheer them on. At the end of the day, we're all here to help each other succeed.
Who was your greatest mentor?
I have been fortunate enough to have had so many people in my corner, and it's difficult only to choose one. And some of my mentors aren't specifically tied to my career but are ones who have helped me through different stages of my personal life.
What are the top 3 things you'd want to pass on as advice to a young, up-and-coming industry professional?
Network, don't be afraid to ask questions, and have fun! Our industry may be big, but we are a tight-knit community. Everyone is always willing to help, so don't be afraid to put yourself out there. You'll be surprised at how many people are invested in your success and will be your champions throughout your career.
What are you most passionate about, and how did you get started with it?
As cliché as it sounds, I'm passionate about making a difference. I'm focused on advancing diversity, equity, and inclusion in my community and the industry. Earlier on in my career, I started seeking out organizations that were doing this kind of work. From there, I took advantage of opportunities to network and learn. I took online courses, attended conferences, and, most importantly, met with and listened to people from different communities/backgrounds/lived experiences. The learning never stops, and I will continue strategically partnering with organizations and hosting events that advance this mission.