Experience the Hamptons sans large crowds this winter when the iconic summer beach destination transforms into a cozy, serene escape that can cure those winter blues. Only the real Hamptonites know there is nothing quite as tranquil as the snow-covered beaches or as charming as the historic downtown villages throughout the region. And, with an affordable winter edge, now is the best time to explore the world-famous destination.
Stroll the boutique-lined Main Streets of East Hampton or dine at chic restaurants that you'll actually be able to get into. Experience snow dusted vineyards in an intimate setting, famed art galleries, world-class wellness, heated al fresco dining, and nights cozied up by a private fireplace. If that sounds like the perfect winter getaway to you, read on for the top 6 reasons you need to visit the Hamptons this winter.
1. The World-Class Spas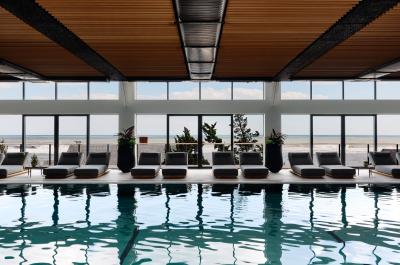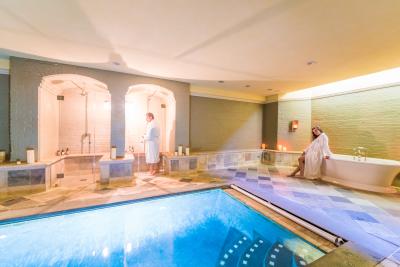 Escape the hustle and bustle of everyday life and enjoy a bliss-inducing spa weekend where heated pools and massages provide the self-care you crave. The Hamptons are home to a diverse range of hotel spas from B&Bs to beachfront retreats. Whether you're looking for indulgent luxury of no-frills relaxation, you'll find it here.
Curl up by one of Baker House 1650's eight luxurious fireplaces and then pamper yourself at the Baker Spa. This one-of-a-kind 17th-century bed and breakfast is fully equipped with modern amenities, including its state-of-the-art spa complete with sauna, steam shower, counter-current swimming pool, and a soaking jacuzzi.
Find refined relaxation at the famed Gurney's Montauk Resort & Seawater Spa which recently underwent an extensive $20 million renovation and features North America's only ocean-fed seawater pool (heated, of course). Included with every treatment? Unrivalled views of the Atlantic Ocean.
Step into the brand-new full-service spa at Canoe Place Inn & Cottages, Onda Beauty. Co-founded by Naomi Watts, the inviting ambiance of this revitalized East End landmark is not one to miss. Experience beauty and respite with muscle-relaxing, anti-inflammatory massage treatments at Topping Rose House followed by a meal at chef Jean-Georges' onsite restaurant. Or enjoy the world-renowned wellness programs at Shou Sugi Ban House in Water Mill (Southampton).
2. The Historic B&Bs, Inns & Cottages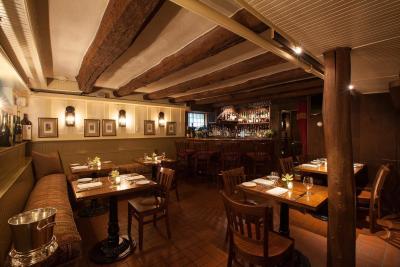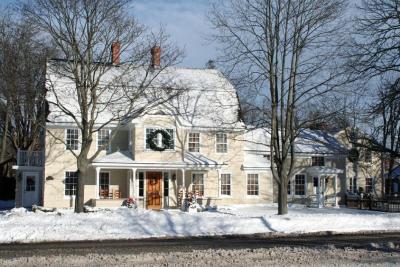 The Hamptons are home to award winning beachfront escapes and cozy B&Bs in the heart of downtowns. For a stylish escape from everyday life, the Roundtree, Amagansett's easy elegance and personalized, unobtrusive services, beckon a quintessential East Hampton getaway during the snowy, languid days of winter.
Kick back and stay awhile at an intimate and quaint B&B in the heart of a historic Hamptons town. Dating back more than 250 years ago, the 1770 House is a Hamptons hot spot with six guest rooms and a two-story carriage house right on Main Street. Warm yourself this winter by one of their antique fireplaces or take a walk down Main Street to the serenity and comfort that awaits at the historic Huntting Inn, one of the oldest buildings in East Hampton.
A little to the west in Southampton is a historic bed and breakfast with quintessential colonial style from the wide clapboard outside to the wood beams and four-poster beds within. Centrally located on Main Street, the 1708 House offers a relaxing winter getaway location. And right in between Southampton and East Hampton, a stay at the Bridgehampton Inn feels like a visit to a dear friend's house. From the original 1795 room to the newly rendered 2015 rooms, every hand-chosen detail comes together to create a refined experience for all visitors.
3. The Arts & Culture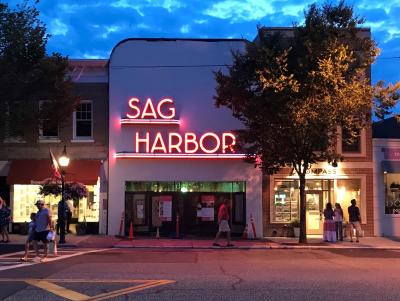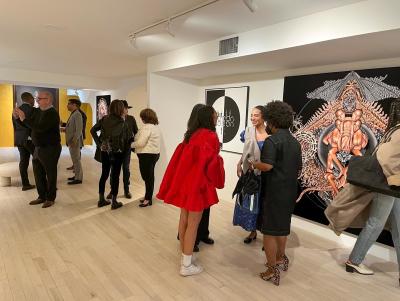 Explore the Hamptons' array of galleries and museums without the lines, that showcase the work of famed artists and feature artifacts and tales of historic icons and their ties to Long Island. Visit the Parrish Art Museum, a gorgeous, comprehensive homage to modern art located in Water Mill and home to over 3,000 pieces of art. Explore the exhibits at Guild Hall which showcase the work of legendary 19th, 20th, and 21st-century artists who lived on the East End of Long Island from Jackson Pollock, to Lee Krasner, to William de Kooning. See larger than life installations at LongHouse Reserve which draw visionaries from around the globe.
Head to Sag Harbor, arguably the most picturesque seaside village in the Hamptons, which began as a major whaling port in the 18th and 19th centuries and was even featured in the iconic literary classic, Moby Dick. Stop by the Sag Harbor Whaling Museum to learn all about it and be sure to catch a film at one of the Hamptons' oldest theaters, Sag Harbor Cinema. The cinema began as a vaudeville and burlesque theater in the 1890s, then became a silent movie house before moving on to talkies.
4. The Main Street Shopping and Dining Scenes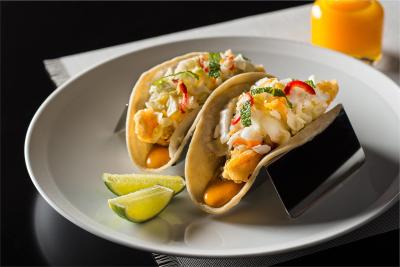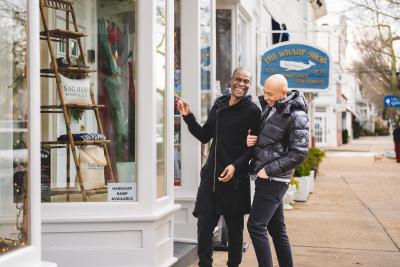 This world-famous region is made up of many charming coastal communities and walkable downtown villages that serve as a haven for fashionistas, culture seekers, and art enthusiasts alike.
Throughout the downtowns in the Hamptons you'll find a treasure trove of diverse shopping opportunities from mom-and-pop clothing shops to antique furniture and art. For high-end designers including Cartier, Gucci and Valentino, you'll want to head to the Village of East Hampton.

So stroll the restaurant-laden boutique-lined Main Streets where the rich and famous shop and dine. Buzzing year-round thanks to the reality show "Serving the Hamptons" on Discover Plus, 75 Main features modern Italian fare in the heart of Southampton with an unrivalled scene. For more Italian, you'll want to experience the east-end institution Tutto Il Giorno which provides a warm, welcoming atmosphere with lounge-style seating and easy to enjoy dishes including Neapolitan-inspired pastas. And the best part is their locations in Sag Harbor and Southampton are open year-round.
Indulge with brunch at Claude's Restaurant, located within the Southampton Inn and best known for brioche French toast, smoked salmon scramble, and more. Explore Hamptons staples that serve farm to table cuisine like at Nick & Toni's in East Hampton and RUMBA or Cowfish in Hampton Bays.
Warm up with homemade soup at the Golden Pear, a popular spot with locations in Southampton, Bridgehampton, and East Hampton.
Don't miss The Restaurant at Baron's Cove's elevated take on local Long Island fare or Scarpetta Beach, a popular Italian spot within the legendary Gurney's resort that has floor to ceiling glass windows and an outdoor terrace.
5. The Vineyards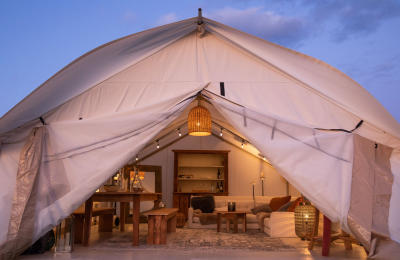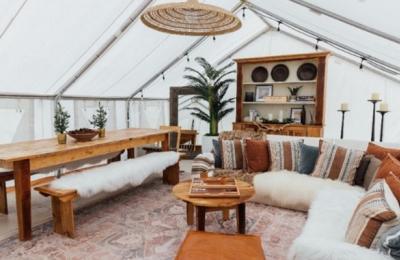 For a Hamptons wintery winery experience, head to the Wölffer Estate Vineyard tasting room that is a center of both activity and tranquility. Guests are warmly welcomed into a rustic-modern space perched on a rise overlooking the snow-dusted vineyards and gently rolling landscape. Experience the variety of the Channing Daughters Winery Vineyard with their six separate vineyards all on their Bridgehampton farm with the Atlantic breezes creating a climate hospitable to a wide array of fascinating grape varieties.
For truly unmatched winter winery experiences, make the short trip to Long Island's North Fork where vineyards like Macari and RGNY offer immersive intimate settings with seasonal igloos and greenhouses where you can curl up on the couches and enjoy comfort foods and fabulous wines.
6. The Outdoors (yes, the outdoors)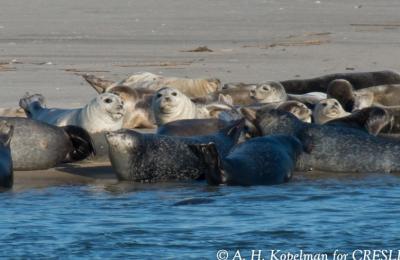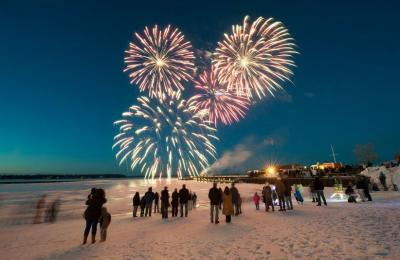 Is there anything more charming than a winter day spent at an outdoor ice-skating rink? The Southampton Ice Rink offers public skating as well as ice skating lessons and igloos for rent. The heated igloos fir up to six people with a Bluetooth speaker and board games! Enjoy a hot meal and seasonal beverages like hot chocolate and craft cocktails. After warming yourself up in an igloo, grab some warm layers and head to Cupsogue Beach for a seal encounter! CRESLI Seal Walks include an hour-long trip where you can learn from experts and see how citizen science works. Catch Sag Harbor's beloved HarborFrost on February 4, with all-outdoor festival events and fire dancers lighting up Windmill Beach.
For your guide to winter hiking on Long Island, visit our blog from last year.