How Sugarloaf and Skiing Saved My Life—plus, join us for the 23rd Annual Sugarloaf Charity Summit!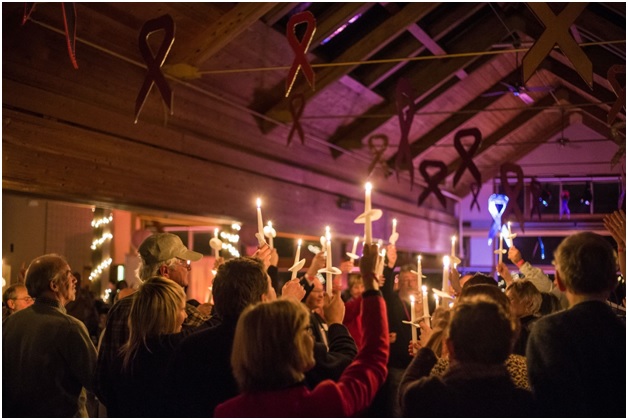 2023 is my 24th year of surviving breast cancer—and skiing literally saved my life. I welcomed 2000 in at Sugarloaf, as always, but I was minus 100% of all my female parts, thanks to my cancer surgery a month earlier and had my medi-port installed. I began my chemo in early January, and then went to work on our annual Sugarloaf fundraiser in late January—which that year was in the form of a Vertical Challenge.
I had been having some heart flutters, yet when the experts checked it out they said it was just a reaction to the chemo. So, the day of the Vertical Challenge arrived, and I was determined to ski as many laps as possible. I ended up with a group of young guys and I made it may goal to keep up. Every now and then my heart was really racing…. but I pushed through. I got 12 laps and the guys got 13. We all went in the lodge to record our laps…took off our coats and helmets…and it was then the guys saw I had no hair! They were all worried, but it felt good to still be able to ski and just be there. I continued to have the crazy heart flutters and my adrenalin was still pumping.
The next Monday, I went in for my chemo treatment, but my medi-port wasn't working. Following many questions and tests, I went in the next day to put in a new medi-port. Before surgery, they x-rayed me to see what happened to my original medi-port. That was at 9am. I was awakened about 6pm with lots of hushed voices telling me to say calm and just breathe…then I heard the room burst into applause.
Guess what? The tube to my original medi-port had broken off several weeks earlier! The heart flutters I had experienced were the tube on a free flow through my veins, but it had been stuck in my heart. At any time, it all could have collapsed, and I would not be here today. But thanks to my day at Sugarloaf, the exertion and the adrenalin had pushed that tube entirely through my heart that day, thus saving my life. (Of course, they had to go in and fish the tube back out through my heart and out my leg.) Thank you, Sugarloaf!
Now here's how YOU can thank Sugarloaf—and help raise a mountain of money to fight cancer. The 23rd Annual Sugarloaf Charity Summit is on Saturday, January 28, 2023.
There so many ways for YOU to support this amazing annual event benefitting the Dempsey Center, Maine Cancer Foundation and Martha B. Webber Breast Center. Please visit Sugarloaf Charity Summit or scroll below to learn more about how to participate in the online auction, Summit, virtual or in person. Hope to see you there!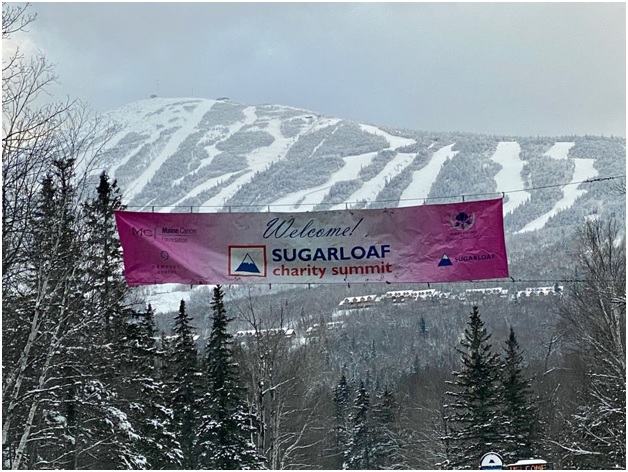 Sugarloaf Charity Summit Online Auction
Timing: Open now thru 9pm January 28th, 2023
The Sugarloaf Charity Summit annual auction is now open for bidding online! There are many amazing items on which to bid from now until January 28, 2023, with more being added each week. Register as a bidder at: https://sugarloafcharitysummit.org/online-auction today to join in on the bidding action.
Sugarloaf Charity Challenge
Timing: Open now through January 28th, 2023
Help us towards our goal of covering 2,000,000 feet on Saturday, January 28! Be it vertical feet or distance logged on the snowshoe or Nordic trails, let's come together to tackle these two goals.
We invite you to start a team or to contribute to the collective goal on your own! You can then choose to participate in the on-hill Sugarloaf events OR log your miles from ANYWHERE, as long as it occurs on Saturday, January 28, 2023. Check out our website for more details and register today at: https://sugarloafcharitysummit.org/Challenge.
Virtual Charity Summit Celebration
Timing: January 28 | 5:30pm-7pm
Join us for a celebratory virtual evening featuring cameos from some of your favorite Sugarloafers. It's a tribute to our community of survivors, an entertaining live auction and the highly anticipated raffle pull – all from the comfort of your own home! This event is free for all to attend, so please plan to join us by clicking through the link on our website at: https://sugarloafcharitysummit.org/virtual-celebration.
No matter how you participate, please know how incredibly thankful our three Maine-based beneficiaries are for your help: Maine Cancer Foundation, the Dempsey Center, and the Martha B. Webber Breast Care Center. Help us raise a mountain of money to help fight cancer in Maine!
For more information about the Sugarloaf Charity Summit and ways you can get involved, please visit SugarloafCharitySummit.org or reach out to Sadie Spivak at s.spivak@sugarloaf.com.